Flour Mill
We are a flour mill manufacturer, main design and manufacture various types of flour mill machine and wheat milling equipment. The products that we produced have passed ISO9001 international quality system authentication. we can provide spare part equipment of one year and quality guarantee period of one year. At the same time our company will carry on the lifelong service to our product.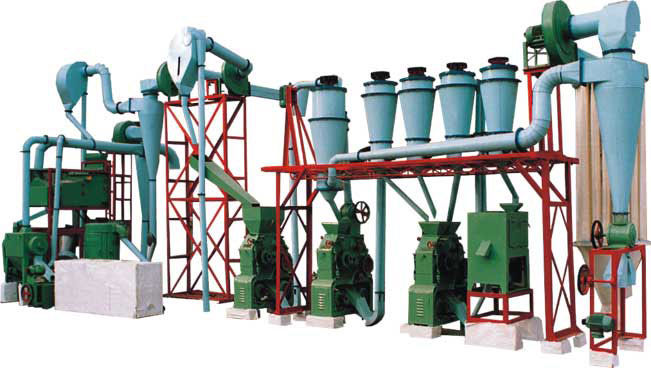 The flour mill machine has advantages of advanced equipments, such as wheat flour milling machine, corn flour milling machine, complete flowchart, good grading efficiency, excellent quality flour, high capacity and flour output, easy operation and maintenance, can produce grade flour, special flour, is efficient for any size flour factory.
Through the efforts for years, the product flour mill for sale of our company has covered large area in China, also exported to Europe, Africa and other areas, it wins the confidence of customers from both domestic and abroad.
Main performance figures for process 100MT/24h of wheat equipment production lines:
1: Cleaning part: Adopts the technique of three screening, two scouring, two stone removing, two damping and three magnetic separating
2: Milling part: 10 sets of FMFQ5 x 2 mill, 3 sets of six-section high-efficiency plan sieve, 2 sets of purifier consist of the milling technique of 5 break, seven reduction, 2 coarse, 4 purifier, two bran brusher, and one checking
3: Production capacity: 100 metric tons wheat per 24 hours
4: Power supply: about 370kW
5: Used under:
Voltage: 380V Frequency: 50Hz Elevation: below 1,200m 6: Dimensions of workshop: four-storied building with 30m length and 6.6m width and overall 18m height
7: Containers: 6 x 40' FCL + 1 x 20' FCL
We can do complete wheat flour mill lines as per buyers' requirements.